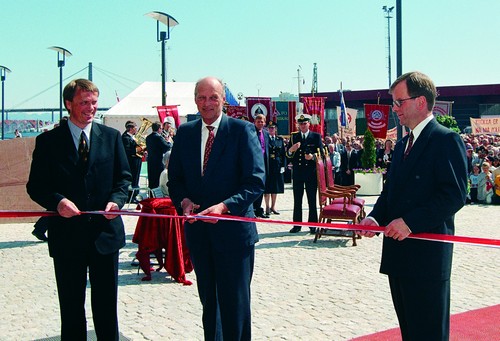 The idea of establishing a petroleum museum in Stavanger emerged as early as 1974, long before it was possible to predict how significant the oil industry would become for Norwegian society.
When the Norwegian Petroleum Museum Foundation was established in 1980, objects, films, photographs and other materials documenting Norway's petroleum sector began to be collected.
A national architectural competition to design the museum was held in 1992 and attracted 48 submissions. The winner was Lunde & Løvseth.
The project had been fully funded by 1996, with the central government contributing NOK 60 million. Rogaland county council provided NOK 10 million, while the City of Stavanger donated NOK 20 million and the site. A further NOK 75 million was raised from private sponsors.
Construction began in June 1997. Demanding architecture, advanced technical solutions and difficult site conditions made the building work particularly challenging.
But the museum rose over a 22-month period in stone, glass and concrete, and Stavanger had acquired yet another monumental edifice.
Work was completed both on schedule and within the NOK 165 million funding raised. The official opening was performed by HM King Harald on 20 May 1999.