Published: 18. December 2015 Updated: 18. December 2015
The Vesterled system links Heimdal Riser with St Fergus. A 32-inch pipeline runs for 38 kilometres from Heimdal Riser to tie into the former Frigg Norwegian pipeline (FNP) about 54 kilometres from the former Frigg field.
With a length of 361 kilometres, Vesterled's capacity corresponds to the FNP's – in other words, roughly 38.6 million scm per day or 11 billion cubic metres per year. The system became operational in 2001.
Frigg gas transport system
The FNP was originally built to carry gas from Frigg to St Fergus, and runs parallel to the UK's FUKA line. Both Norwegian and British pipelines from Frigg were 32 inches in diameter and about 360 kilometres long. Total Oil Marine UK was operator for the two lines, which eventually also carried gas from North-East Frigg, East Frigg, Lille-Frigg, Odin and Frøy as well as Britain's Piper, Galley, Tartan, Claymore, Rob Roy, Ivanhoe, MacCulloch, Alwyn, Bruce and Ross fields. The two pipelines passed through the Frigg MCP-01 compressor platform, which stood in 94 metres of water about halfway to land in the UK sector – 174 kilometres from the Scottish coast. Built in 1976-77, this installation served to pressurise the pipelines and as a launch and retrieval station for pigs.
Frigg MCP-01 became unstaffed in 1992 and was remotely operated from the St Fergus gas terminal until fully shut down in 2004. The removal project began in 2006 and, after consultation with the partners and the authorities, it was resolved to remove the topside and leave the concrete GBS in place.
The Norwegian Frigg Pipeline is now part of the Vesterled system, while the British line continues to carry gas from UK fields to land.

The Frigg transport system. Illustration: Norwegian Petroleum Directorate

Vesterled from Heimdal to St Fergus. Illustration: Total E&P UK

Frigg MCP-01. Photo: Total E&P UK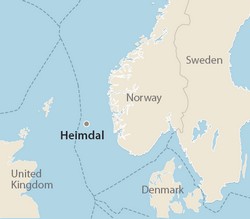 See also the Norwegian Petroleum Museum's petroleum map: http://www.petroleummap.no
| | |
| --- | --- |
| Operator | Gassco |
| Development operator | Norsk Hydro |
| TSP | Total E & P UK |
| Operational | 1 October 2001 |
| Diameter | 32 inches |
| Capacity | 38.6 mill scm/d |
| Length | 361 km |
| Owner | |
| Gassled | 100% |