Published: 18. December 2015 Updated: 18. December 2015
Statpipe was constructed to handle gas volumes from Statfjord and Gullfaks and to connect these big fields in the northern North Sea with markets in continental Europe. To reach the receiving terminal in Norway, the pipeline had to cross the Norwegian Trench – a submarine valley more than 300 metres deep just off the coast. Laying pipe in such depths was not technically feasible up to the early 1980s, but Statpipe became the first development to benefit from technological advances in this area. It became operational in October 1985.
This system has four components. The first leg carries rich gas from Statfjord to the Kårstø processing plant north of Stavanger. It also gathers gas en route from Snorre, Gullfaks, Veslefrikk and Brage. Gullfaks gas travelled in the early years via Statfjord C, but was rerouted in 2001 to a new tie-in south of Statfjord. After processing at Kårstø, the dry gas is carried to Draupner S. A spur from Heimdal joins at this riser platform, and the combined flow continues to Ekofisk and a tie-in with the Norpipe line to Emden in Germany.
The initial tie-in point on Ekofisk was the dedicated 2/4 S riser platform, linked by a bridge to the field centre. A Statpipe bypass was installed around Ekofisk in the summer of 1998, and 2/4 S was removed. The system is thereby tied directly into Norpipe. Statpipe was Statoil's first major pipeline assignment as operator, and laid the basis for developing an extensive infrastructure to export Norwegian gas. Including the Heimdal spur, the whole system is 880 kilometres long. 

The Statpipe route. Illustration: Norwegian Petroleum Directorate

Statpipe gas transportation system.

Ekofisk 2/4 S, 1986-1998. Photo: Husmo Foto/Norwegian Petroleum Museum
Draupner gas hub
No gas, condensate or oil are produced at Draupner. It functions instead as an important transport hub for gas arriving through Statpipe from Kårstø and Heimdal and through Zeepipe from Troll. The gas is sent on from Draupner through Europipe I to Dornum, Statpipe to Emden and Franpipe to Dunkerque. It can also be routed via the Zeepipe P51 link to Sleipner East and through Statpipe to Heimdal. Installations comprise the Draupner S and E riser platforms, supporting seven risers with diameters from 28 to 48 inches. Standing in block 16/11, these structures rest on steel jackets in 70 metres of water. Their most important functions are to check the pressure, volume and quality of the gas, and to launch and retrieve cleaning and inspection pigs. Transport capacity through Draupner is 130 million cubic metres per day. Gassco is the operator, with Statoil as the technical service provider (TSP).

Draupner gas hub
Draupner S
This platform was installed in 1984 as part of Statpipe, and became operational the following year. A bridge links with Draupner E. Its original name was Statpipe 16/11-S.
Draupner E
The platform was installed in 1994 as part of the Europipe I development from Sleipner East to Emden in Germany, and became operational in 1995.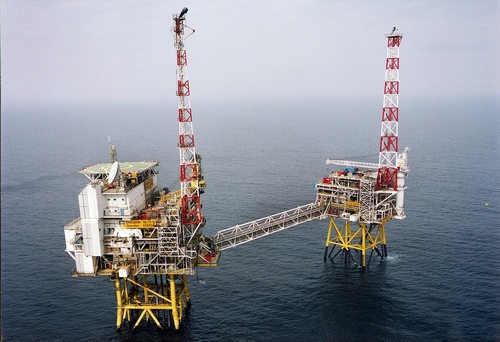 The Draupner platforms, with Draupner S to the right. Photo: Øyvind Hagen/Statoil

See also Petroleum Map: http://www.petroleummap.no/
| | |
| --- | --- |
| Operator | Gassco |
| Development operator | Statoil |
| TSP | Statoil |
| Operational | october 1985 |
| Length | 880 km |
| Statfjord-Kårstø 30-inch | 308 km |
| Kårstø-Draupner 28-inch | 228 km |
| Heimdal-Draupner 36-inch | 155 km |
| Draupner-Ekofisk 36-inch | 213 km |
| Capacity | 20-30 mill scm/d |
| Owner | |
| Gassled | 100% |
| | |
| --- | --- |
| Operator | Gassco |
| Development operator | Statoil |
| TSP | Statoil |
| Operational | 1984 |
| Block | 16/11 |
| Capacity | 130 mill scm/d |
| Owner | |
| Gassled | 100% |